Pet friendly features, outdoor spaces, proximity to parks and veterinary care are all contributing criteria for many buyers in the housing market today.
A 2021 study by NAR (National Association of Realtors) found that 43% of people would be willing to move to accommodate their pets. They cite the surge in pet adoptions amidst the pandemic as a major motivating factor behind pet owners looking to move to a bigger place with more room for them to stay in and work alongside their pets.
What's more is Zillow's 2021 Consumer Housing Trends Report found nearly three-quarters of home buyers reported having at least one pet at home (73%), compared to 64% of buyers who reported having a pet in 2020, and that these pet owners are more likely to buy larger homes with more bedrooms—36% purchased a house with at least four bedrooms.

4 Prime Pet Considerations Influencing Buying Decisions
1. Proximity to pet amenities
Amenities such as parks, pet-friendly trails, veterinarian care, and doggy daycares are topping the list of musts alongside chief considerations like school districts and commute times.
2. Outdoor space
Zillow's 2021 pet research suggests private outdoor space is more important to homebuyers with pets than those without (73% compared to 65% of those surveyed). Appealing features include larger fenced-in yards, shade for pets to stay cool, and non-toxic landscaping. Zillow and Rover research noted listings with a doghouse often sold for more than expected, and homes with a fenced yard sold five times faster than expected. These outdoor features can translate to big rewards for sellers.
3. Pet-friendly neighborhood culture
NAR found that 29% of young millennial buyers are picking their neighborhoods with their pet(s) in mind. Buyers are watching for people walking dogs around the block and scanning for cats sitting in windows as they assess if neighborhood residents would have this in common with them too. Extending beyond a buyer's street, pet-friendly areas might also include nearby dog-friendly restaurants, bars, and shops too.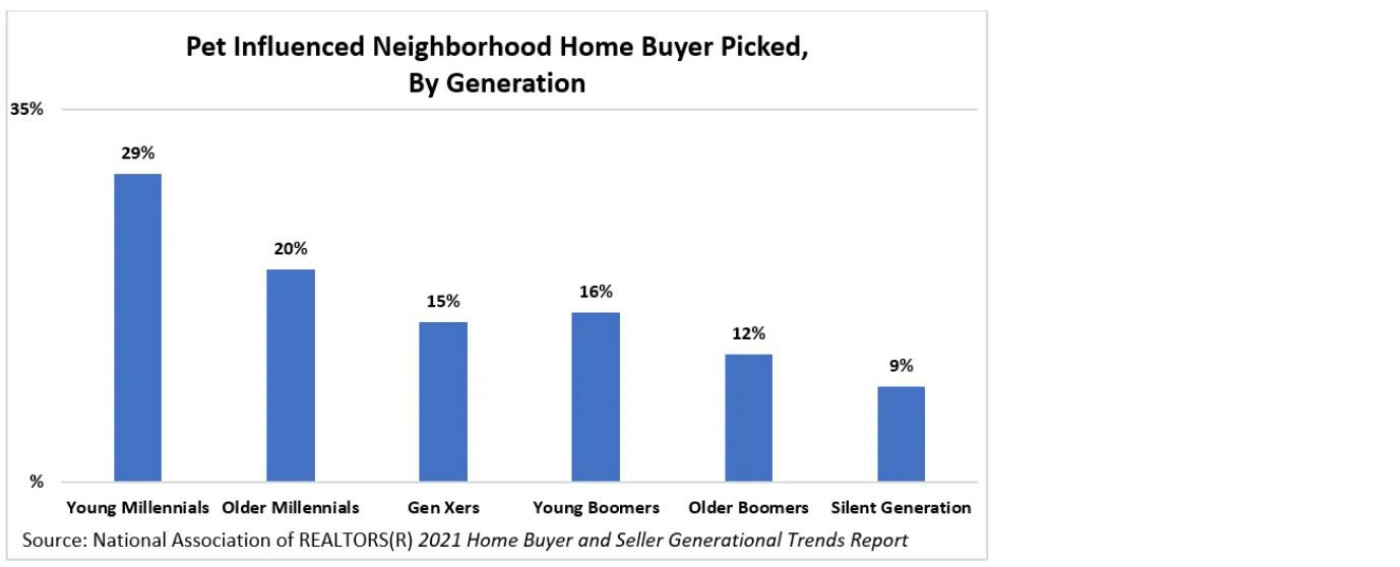 Greater Grand Rapids has several walkable destinations. Immediately Outside Coffee Co. in Eastown springs to mind, and so does Third Nature Brewing in Rockford. They are among standout communities that definitely have that pet-embracing vibe in West Michigan.
4. Pet specific interior features
Durable flooring, an item most buyers tune into, is a practical must but designated indoor spaces and features for pet conveniences are on the radar for pet owners too. These spaces and features include mudrooms with
nooks and storage, built-ins for litter boxes, sunrooms or enclosed porches for cats, windows for gazing, and of course doggy doors.
At the time of the writing, homes are selling like hotcakes in our region and across the nation. Housing shortages mean that homes are selling and at a premium, typically as-is. There's simply potential to capitalize further on pet-friendly features, as a Seller, whether they are neighborhood perks or home customizations for fur-family.