Home means everything to us.
Is it any surprise that home cooking would be a passion too? Probably not, if you know me; it's kind of a love language of mine. Nutritious, tasty and comforting,
Ann's Creamy Chicken & Wild Rice
is a seriously simple and savory soup we enjoy a lot at home and sharing with others. Frigid weather, or feeling under the weather, this is my go-to for family and friends. A dozen ingredients and less than an hour invested, you'll know what a solid soup hug feels like. If you try it, I hope you love it and feel the love too.
Heads up: This recipe is gluten-free, and it calls for an Instant Pot.
A first-rate soup is more creative than a second-rate painting. -Abraham Maslow
Ingredients:
| | |
| --- | --- |
| 2 lbs. boneless, skinless chicken things | 1 package carrot matchsticks |
| 1 celery heart - diced | 2 medium yellow onions - diced |
| 3 cloves garlic - minced | 2 C. wild rice |
| 3 32-oz. cartons chicken broth | 2 C. heavy whipping cream |
| 1.5 Tsp. Zehnders Chicken Seasoning | 1 Tsp. Himalayan/sea salt |
| 1/2 Tsp. black pepper | 2 Tbsp. olive/avocado/grapeseed oil |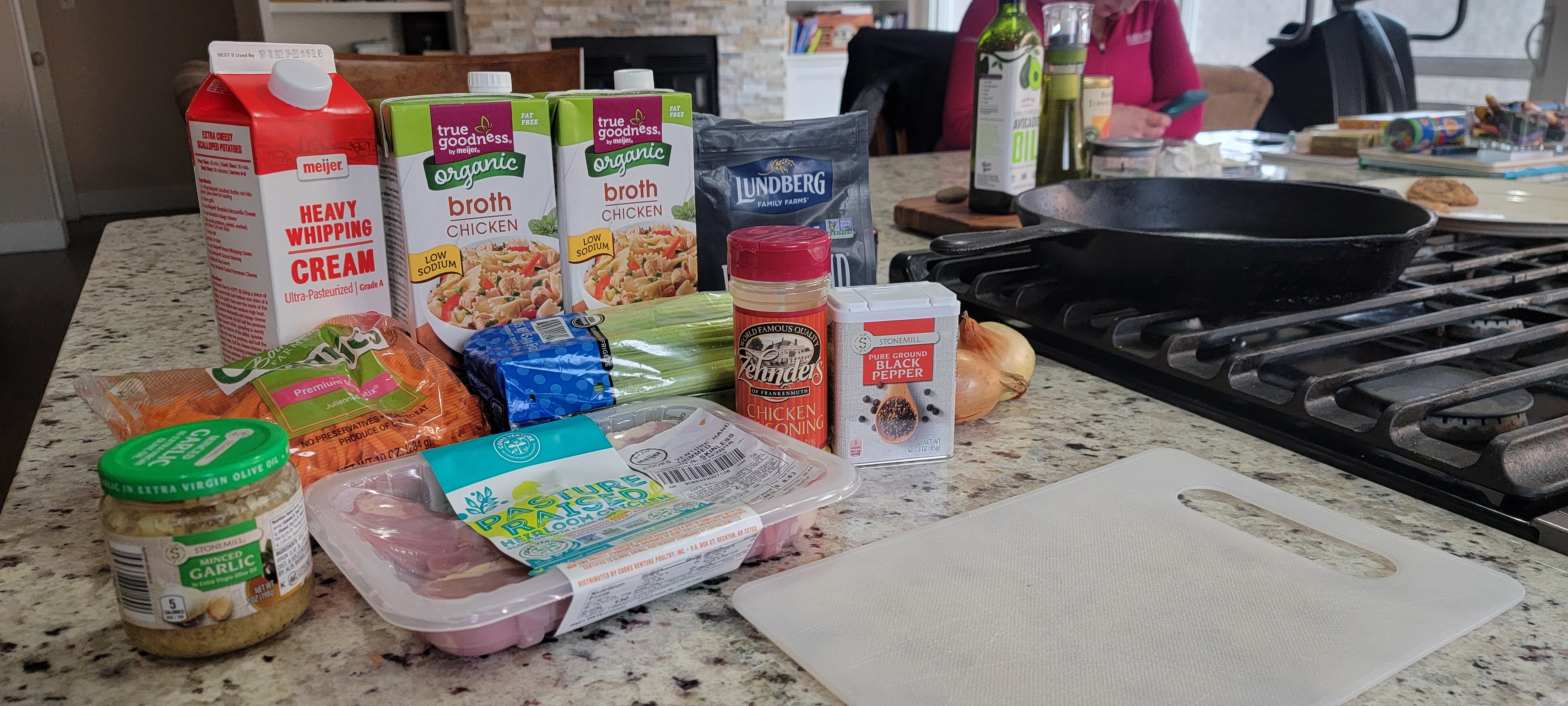 Directions:
Chop celery and onion, and set aside, then mince garlic and set aside also. If you have whole carrots, then chop those too; otherwise, set aside matchstick carrots in bag.
Add oil to large pan and set heat to medium/high. Once oil is hot add minced garlic to pan and toss until lightly browned.
Add chicken to pan and cook with garlic for a couple minutes on each side. We are looking to brown/sear, not to cook through at this point.
Once chicken is browned, add carrots to the pan and mix around for a couple of minutes.
Follow with celery and onion. Allow vegetables to cook for about 3 minutes, or until tender. The water from the veggies will loosen any sticking chicken and those drippings make the vegetables very flavorful.
Move contents of pan to (Instant Pot) pot and add broth, rice, and seasonings (pepper, salt and Zehnders).
Insert pot into Instant Pot, make sure the vent is closed, and set as follows: High Pressure, 20 Minutes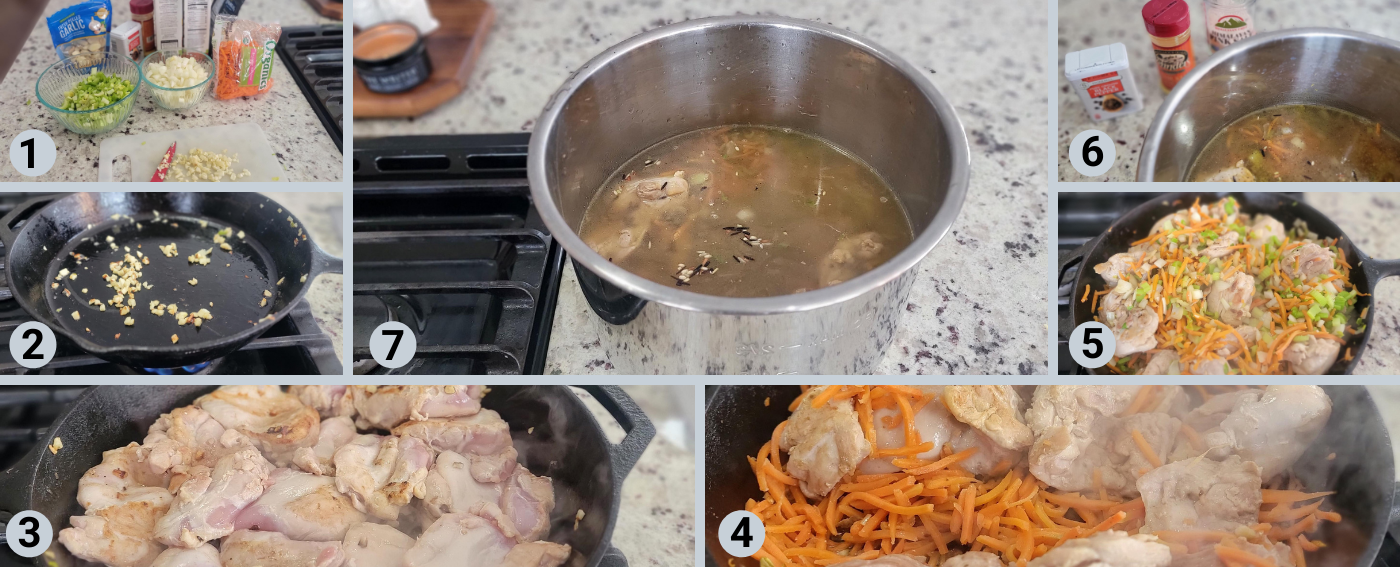 8. Once timer is up, venting is open and steam released, remove the lid and sift out chicken thighs for shredding. The chicken is incredibly tender but still easier to shred in a small bowl - will take a minute or less. Once it is shredded, return it to the pot.
9. Pour in cream. *If you like a little thicker soup, set the pot to saute, dissolve a heaping tablespoon of corn starch in with the cream before pouring in and then stir several times until thickened.
10. Finito!! Stir, serve and enjoy!!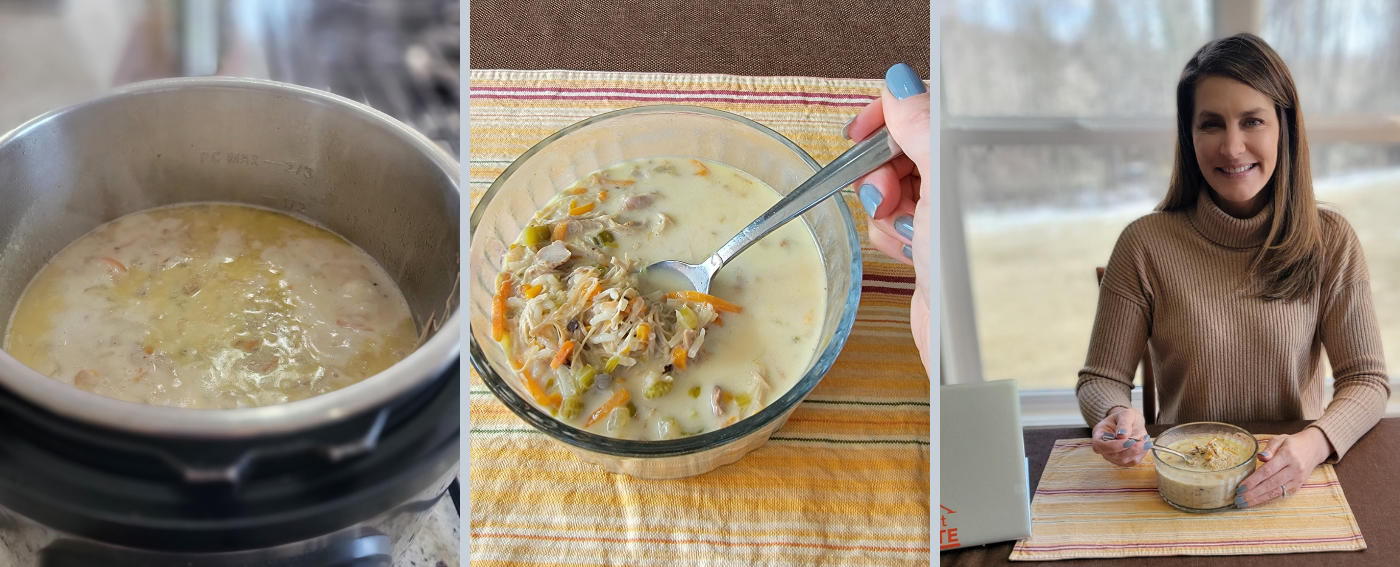 Hugs,
Ann